If you're new to Apple AirTags and are a seasoned air traveler, perhaps you want a little extra information around your luggage whereabouts. One question you might have is, will AirTags work inside luggage? Great news, read on to find out about the Apple AirTag luggage tracker.
The good news for air travelers is that AirTags work great inside your luggage. With regular location updates, you will be able to get a good sense of the location of your luggage while at the airport.
In this article, I explore how you can use an AirTag to track your luggage and dig into why an AirTag is a great option that offers travelers some peace of mind about their luggage while at the airport.
Table of Contents
Can You Put AirTags Inside Luggage?
For travelers looking to track their luggage with an AirTag, placing it inside your luggage is the best and safest option. By placing the AirTag inside your luggage, you can protect the AirTag from being accidentally removed as it travels through an airport's baggage handling system during its journey.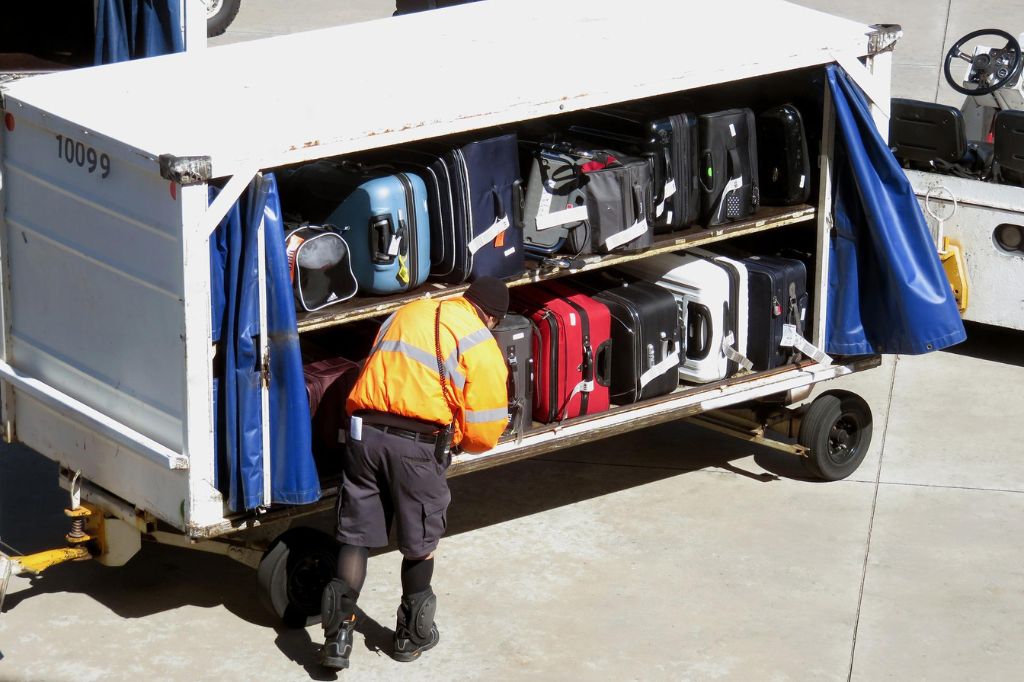 Luggage that is mishandled happens for many reasons, one such reason is tag-off. A tag-off is where the bag tag itself has separated from the bag and therefore can no longer be sorted, resulting in a bag mishandling. A tag-off can happen for several reasons, perhaps it wasn't attached correctly during self-check-in or, perhaps it was ripped off as it made its way through the vast airport baggage handling systems.
So should you have your AirTag inside or outside your luggage? In my opinion AirTags work best inside luggage and, putting an AirTag inside your luggage would mean that in the event of a tag-off there would be a chance of bag recovery. Of course, placing an AirTag inside of your luggage also means it's out of sight of any would-be thief.
Pack of 4 Apple AirTags
Can You Put AirTags On Luggage?
Placing an AirTag on your luggage is a great option that offers travelers some peace of mind while at the airport. However, putting an AirTag on the outside of your luggage does make it more susceptible to being accidentally removed while traveling through an airport's baggage handling system.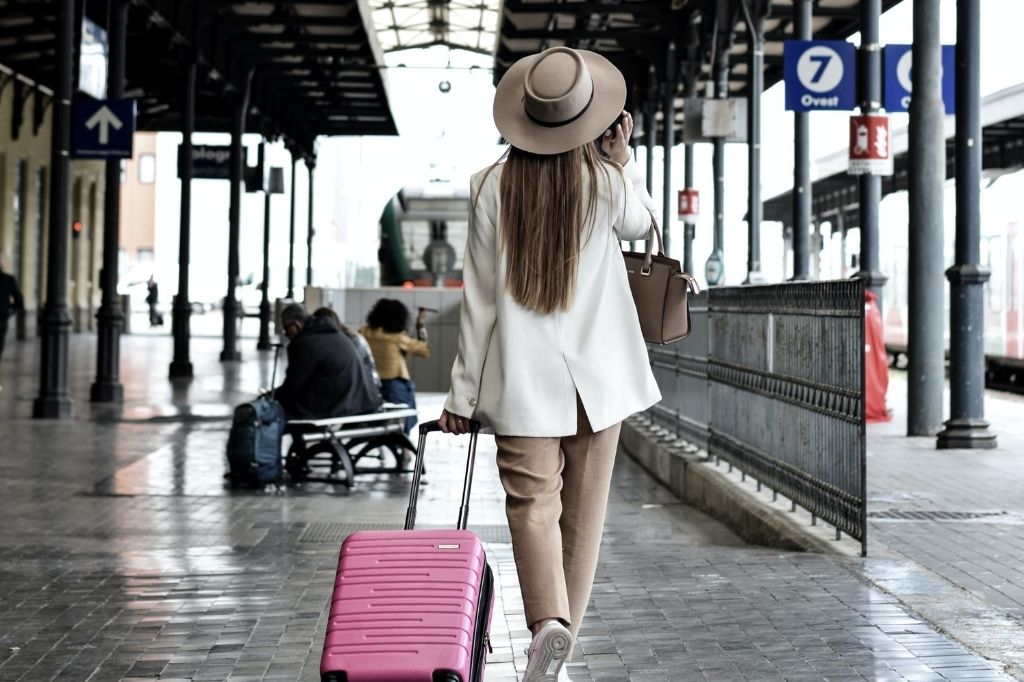 Top tech tip: Each Apple ID can be associated with up to 16 AirTags, so you can keep track of 16 items at one time.
Samsonite Omni PC Hardside Expandable Luggage With Spinner Wheels – 3-Piece Set (20in/24in/28in)
While airport baggage handling systems are becoming more efficient, accidents and damages to luggage do happen. Putting an AirTag on your luggage certainly does look cool, however, it does mean there is a chance that your AirTag could potentially be accidentally ripped off your luggage during its journey.
It's a much better idea to place your AirTag inside the luggage you want to track and minimize any potential for damaging or losing your AirTag. If, however, you do decide to put your AirTag on your luggage there are some great Apple AirTag accessory options available like the Apple AirTag Polyurethane Loop.
Apple AirTag Loop Polyurethane
Can You Use AirTags At A Regional Airport?
Whether you're departing from or arriving at a regional airport within the United States, there is no security restriction on using AirTags for tracking your luggage or bags.
How Do AirTags Work?
Apple's AirTag tracker uses a CR2032 coin cell battery that Apple says will last up to one year before needing to be replaced. The water and dust resistant tracking device can send a secure Bluetooth signal that is detected by other Bluetooth devices on Apple's Find My network.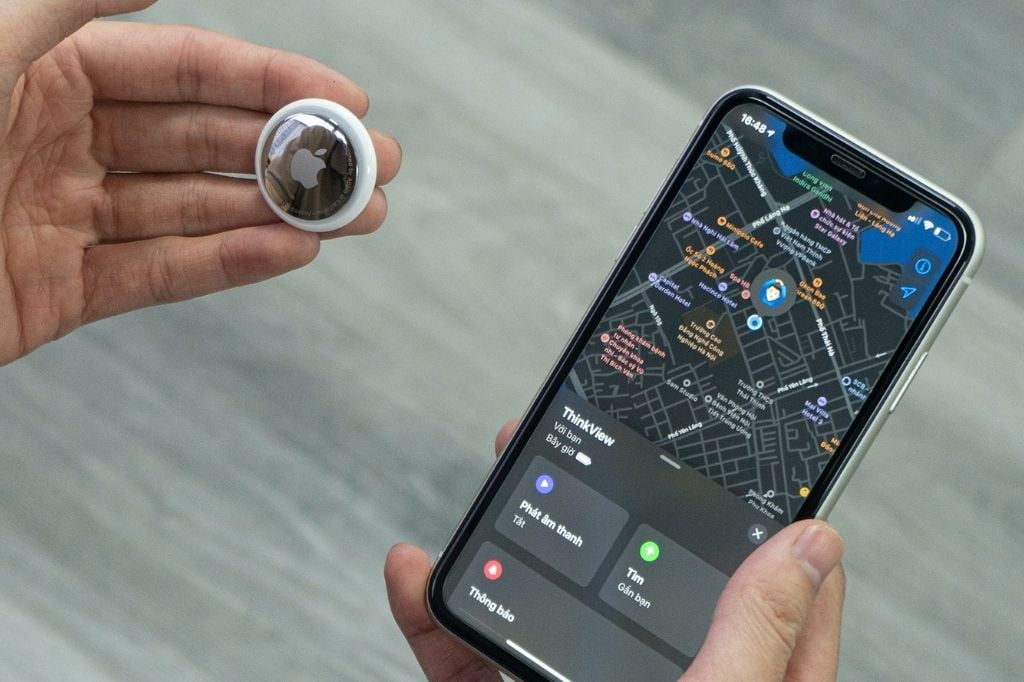 Using other Apple devices, an AirTag's location is transmitted to Apple's iCloud where it can be tracked within the Find My app. All this communication happens in an anonymous and encrypted way to protect everyone's privacy. It's important to note that only you, the AirTag owner, can see where the AirTag is and that the location data and history are never saved on the AirTag itself.
According to Apple there are millions of devices on the Find My network. If you lose an AirTag, switching the AirTag into Lost Mode will allow you to receive a notification once it appears on the Find My network map.
One last point to note, AirTags do a fantastic job at tracking things, however, don't expect an AirTag to give you real-time location updates. This is especially true when your luggage is traveling through the baggage handling system or, is traveling on a tug to the aircraft. Once your AirTag is stationary you can expect to receive regular updates of its location every five or ten minutes assuming there are other Bluetooth Apple devices within range.
Apple AirTag Leather Key Ring
Frequently Asked Questions
Hopefully, I have answered all your questions on will AirTags work inside luggage. You may still have other questions surrounding AirTags. If you do, below, I have answered some popular frequently asked questions, or check out my other article on how to prevent lost luggage using an AirTag.
How much does an AirTag weigh?
According to Apple's technical details, an AirTag weighs 0.39 ounces or 11 grams.
Does Apple's Precision Finding work internationally?
Apple's Precision Finding uses a technology called Ultra Wideband, this technology is not available in every country.
Can you use AirTags with an Android device?
AirTag are not compatible with Android devices. However, Android devices can read AirTags attached to in lost mode via NFC.
Should you hide an AirTag in your luggage?
Yes, hiding an AirTag inside your luggage is a great option. Having it inside means there is no chance for it being ripped off while traveling through the airport baggage handling system.
Are AirTags allowed on checked luggage?
Yes, AirTags are allowed on checked luggage because they use Bluetooth, just like many of the headphones you'll see passengers wearing on the aircraft.
Is there AirTags for luggage on Android?
Apple AirTags are designed to work with Apple iOS only. However, Android devices using NFC can read contact information on lost AirTags.
Final Thoughts On Will AirTags Work Inside Luggage
So, in conclusion, do AirTags work inside luggage? Yes they do. Placing an AirTag inside your luggage is a great option if you want some extra peace of mind as you travel. The low-cost Apple luggage tracker works extremely well if other Apple Bluetooth devices are in range. However, don't expect to receive any real-time tracking information, more like every five or ten minutes – but if your luggage is mishandled it will improve your chances of recovering it greatly!
Are you looking for more smart AirTag ideas? Check out my other article on where to use Apple AirTags.
---
Affiliate disclaimer. We may receive an affiliate commission at no extra cost to you if you purchase a product after clicking on one of our links. This doesn't affect our editorial independence.