Do you have an AirTag or, are you considering buying an AirTag and wondering, does an AirTag use a cellular service? If so, then this article is for you!
AirTags themselves do not use a cellular service, instead, AirTags use Bluetooth and Ultra-Wideband technology. AirTags use nearby iOS devices through Bluetooth and send the location of the AirTag to iCloud, where you can see it's location on the Find My app map.
In this article, I explore Apple's AirTag connectivity technology and how an AirTag communicates without using a cellular service and answer the question, does an AirTag use a cellular service.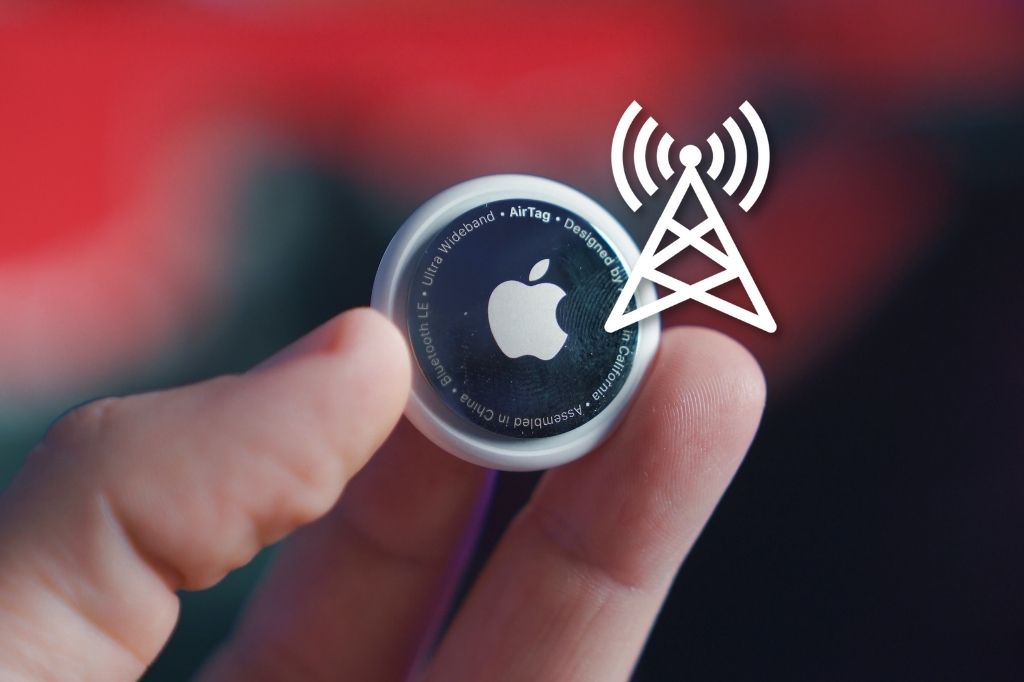 Table of Contents
How Does An AirTag Work Without Cell Service?
The coin-sized tracker is powered by a user-replaceable CR2032 coin cell battery, that according to Apple, an AirTag's battery life will last up to one year. The splash, water, and dust resistant device emits a secure Bluetooth signal that can be detected by other Bluetooth Apple devices in the Find My network.
To pinpoint its location within inches or less, an AirTag uses the Apple-designed U1 chip for Ultra Wideband which, allows for Precision Finding that includes distance and direction. Apple's Precision Finding on an AirTag is compatible with an iPhone 11 or greater with iOS 14.5 or later installed.
An AirTag leverages nearby Apple devices through Bluetooth on the Find My network to send its location to iCloud where it can be tracked on the Find My app map. All this communication happens in an anonymous and encrypted way to protect your privacy. It's important to note that only you can see where your AirTag is and, your location data and history are never stored on the AirTag itself.
Pack of 4 Apple AirTags
How Accurate Is An AirTag's Location?
An AirTag's location is extremely accurate. AirTags use Ultra Wideband, a short-range wireless communication protocol. However, unlike Bluetooth and WiFi, Ultra Wideband operates at a much higher and broader frequency range and is capable of giving highly accurate spatial and directional data points.
Using Apple's Precision Finding coupled with Ultra Wideband data, you can track and locate your AirTag to within inches or less of its exact location, making an AirTag a very effective tracking device.
One point to note, however. Precision Finding is only compatible with the iPhone 11 or greater and iOS 14.5 or later. A full list of AirTag technical specs is available from Apple.
What Is AirTag Lost Mode?
AirTag Lost Mode is an Apple feature that, when discovered by another Apple device on the Find My network, a notification is sent to the AirTag owner. Additionally, an NFC-capable device can be used to tap on the AirTag to view a Lost Mode message like owner contact information.
Lost Mode is not a new concept, nor is it only available on an AirTag. Most other Apple devices also have this feature. When you enable Lost Mode on an AirTag, you can enter details like a phone number, email address, or even a personal message for the finder to help with retuning the AirTag.
Naturally, if you find your AirTag then you will want to turn off Lost Mode as soon as possible. Turning off Lost Mode is just as easy as turning it on and, once turned off, this no longer identifies your AirTag as lost and ensures you will no longer receive notifications.
Frequently Asked Questions
I hope this article answers the question, does an AirTag use a cellular service. You may have other AirTag questions, so below I answer some of the most frequently asked questions.
Can you turn an AirTag on and off?
No, you cannot turn an AirTag on or off. Once you activate the battery it will remain on until the battery runs out.
Is the battery on an AirTag replaceable?
Yes, you can replace the CR2032 coin cell battery within an AirTag. You can expect the battery to last up to 1 year.
Are AirTags compatible with Android devices?
Android users can't register an AirTag with their devices, but the NFC feature in Android phones allows users to connect to AirTags in Lost Mode and see contact details so they can return it.
Final Thoughts On Does An AirTag Use A Cellular Service
So, in conclusion, does an AirTag use a cellular service? No, AirTags themselves do not use cellular service. AirTags make use of both Bluetooth and Ultra-Wideband technology and other Apple devices in the Find My network to send the location of the AirTag to iCloud.
AirTags are a cost-effective tracking solution backed by a network of millions of users on Apple's Find My network. Are you looking for ideas on where you can use Apple AirTags? Check out my other article on best AirTag ideas. Now, where did I put my wallet again?
---
Affiliate disclaimer. We may receive an affiliate commission at no extra cost to you if you purchase a product after clicking on one of our links. This doesn't affect our editorial independence.