An AirTag is a small Bluetooth tracking device from Apple that can be used to track and find your lost keys, backpack, wallet, and much more. However, one question often asked is, can you take an AirTag on a plane? If you are perhaps wondering the same, then read on!
Since an AirTag relies on short-range Bluetooth and not a cellular service to communicate, taking an AirTag on a plane is not an issue. If you're a frequent flyer, you will have seen many passengers using Bluetooth headphones to listen to music and watch movies while in the air, an AirTag is no different.
In this article, I explore can you take an AirTag on a plane, are AirTags good for travel, do AirTags work internationally, and much more.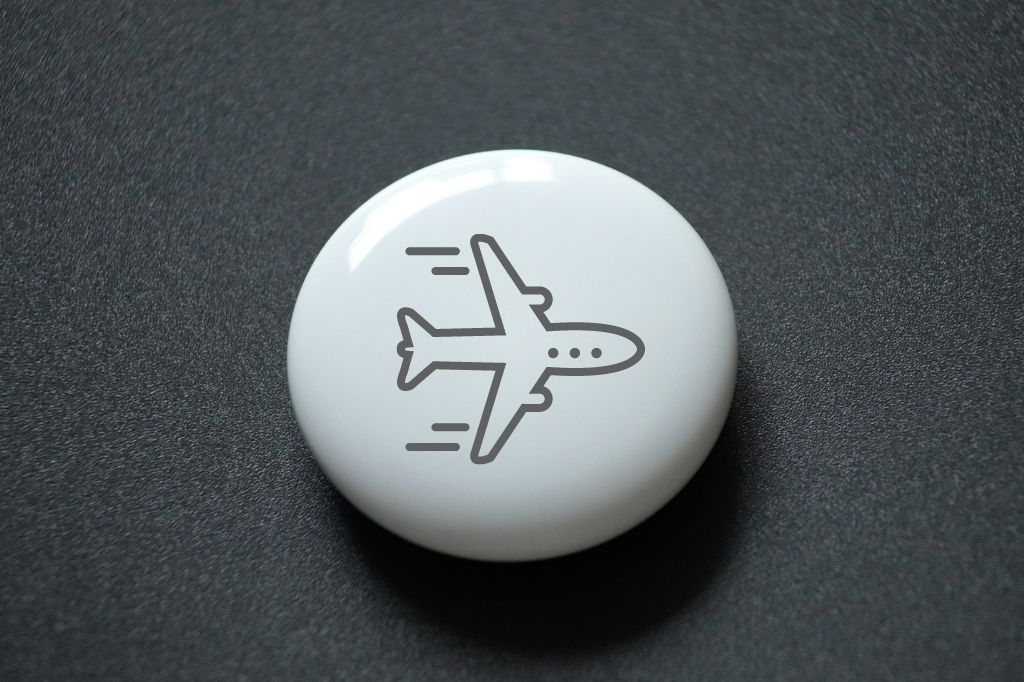 Table Of Contents
Are AirTags Allowed On Planes?
AirTags use short-range Bluetooth and therefore are allowed on planes. Today passengers are already flying using short-range Bluetooth devices like headphones, tablet keyboards and games consoles.
An AirTag uses Bluetooth to send a secure and anonymous signal to other Apple devices on the Find My network to register its physical location. Since an AirTag doesn't use cellular, AirTags are allowed on airplanes without having to power them down or remove their battery.
AirTags are a low-cost and easy way to track all your carry-on and checked baggage, giving you some additional peace of mind if you happen to leave a bag on board or if it's mishandled by the airline during your journey.
Pack of 4 Apple AirTags
Are AirTags Good For Travel?
Whether you're traveling with checked or carry-on baggage, attaching an AirTag to your bags is a great idea that will give you some extra peace of mind while you travel.
An AirTag leverages Apple's Find My network, which has hundreds of millions of iPhones, iPads, and Mac devices. If you decide to use an AirTag while you travel, there is a high likelihood your lost baggage location will be visible within your Find My app.
AirTags work virtually anywhere in the world, and they're affordable. These two reasons alone make them a fantastic option for travel. Additional to that, AirTags are dust and water-resistant, and you don't need to change the battery for a year. So using an AirTag when you travel is a no-brainer!
Apple AirTag Loop Polyurethane
Do AirTags Work Internationally?
AirTags will work internationally as long as they are within range of an iPhone or any other Bluetooth Apple device that can send their locations to Apple's iCloud.
If you have an AirTag inside your luggage and you leave it on board a plane for example, as long as someone with an Apple device connected to iCloud passes by your AirTag, your AirTag's location will be visible within the Find My app.
Now, it's important to note that when finding an AirTag internationally, specifically using Precision Finding, not all international countries actually support Ultra-Wideband technology, and its use is subject to international regulatory requirements.
Pack of 4 Apple AirTags
Frequently Asked Questions
Hopefully, I have answered all of your questions related to, can you take an AirTag on a plane. However, you may still have other questions surrounding Apple AirTags. If you do, below I have answered some common frequently asked questions.
Can you put an AirTag in a suitcase?
Placing an AirTag in a suitcase is a great idea and will prevent it from being removed as it travels through the airport's baggage handling system.
Can you fly with AirTags?
Yes you can fly with AirTags and use them on your checked and carry-on baggage.
Are AirTags TSA approved?
Yes, AirTags are TSA approved.
Final Thoughts On Can You Take An AirTag On A Plane
So, in conclusion, can you take an AirTag on a plane? Yes, you can take an AirTag on a plane. Since an Apple AirTag relies on short-range Bluetooth and not a cellular service, taking an AirTag on a plane is not an issue.
Are you looking for some additional AirTag reading? Check out my other article on the best AirTag ideas.
---
Affiliate disclaimer. We may receive an affiliate commission at no extra cost to you if you purchase a product after clicking on one of our links. This doesn't affect our editorial independence.