If you're a new AirTag user, or you're considering buying an AirTag, and want to know, can AirTags get wet, then this article is for you.
AirTags are not waterproof, but it's ok for AirTags to get wet because they are water-resistant to a maximum depth of one meter for up to thirty minutes. 
In this article, I explore everything you need to know about can AirTags get wet, and are AirTags waterproof. Knowing this information may help you decide if this Apple Bluetooth tracking technology is the right fit for your intended use.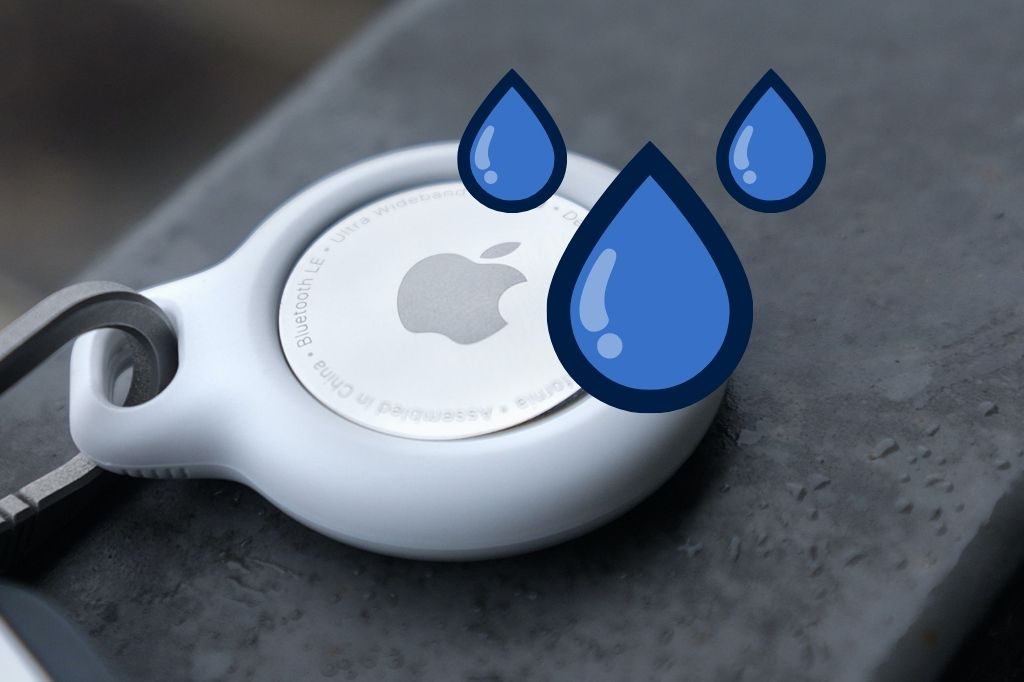 Table of Contents
Can AirTags Get Wet?
Knowing that AirTags can get wet, and since you're able to attach an AirTag to virtually anything, it's important to acknowledge that according to Apple's AirTag technical specifications, AirTags are only splash and water-resistant, and not waterproof.
So what does water-resistant mean for you in practical terms when using an AirTag. Your AirTag is designed to withstand water splash events, it's designed to resist water ingression when submerged at a maximum depth of 1 meter for up to 30 minutes, however, this doesn't mean that your AirTag is waterproof.
For most AirTag owners, attaching an AirTag to an item that may be subjected to rain for example, the likelihood is, it will continue to work as expected. If on the other hand, you're planning on physically using your AirTag underwater, then the likelihood is your device will eventually fail.
Pack of 4 Apple AirTags
Are AirTags Waterproof?
AirTags are not waterproof, they are only water-resistant despite having an IP67 water ingress protection rating at a maximum depth of 1 meter for up to 30 minutes.
AirTag users should not expect their device to operate normally outside of the IP67 water ingress protection rating identified by Apple. Another general expectation to consider, as devices age, as does their ability to withstand the requirements of the water ingress rating due to normal wear and tear.
Some final points to note. During a water test by Zollotech, it was noted that while fully submerged within water, the tester could no longer hear the sound played by the AirTag's built-in speak. Furthermore, during the same water test, the tester was unable to find the AirTag from approximately 2-3 feet using the Find Nearby feature. During a similar test at a much shallower water depth, the tester was successfully able to hear and find the AirTag as expected.
Are There Waterproof AirTag Cases?
Yes, there are waterproof AirTag cases available. The cases on the market today generally offer an Ingress Protection rating of IPx8 that offers your AirTag protection against the effects of water, under pressure for long periods.
As identified above, fully submerging your AirTag in water has the potential to reduce its tracking functionality, however, your mileage may vary. A plus of using a waterproof AirTag case is being able to attach your AirTag to water-based equipment like a jet ski without the worry of water ingress.
Frequently Asked Questions
Hopefully, I have answered all your questions on, can AirTags get wet. Below I answer a few additional AirTag frequently asked questions, or check out my other article on are AirTags weather-resistant.
Are AirTags easy to set up?
AirTags are very easy to set up using the familiar Apple paring process already found when pairing an Apple Watch or AirPods.
Do you have to charge an AirTag.
You do not have to charge an AirTag, they use a CR2032 coin cell battery.
Can you shower with AirTags?
You can shower with an AirTag, just keep it under 30 minutes.
Can you swim with AirTags?
You can swim with an AirTag, however keep in mind that AirTags are only water resistant and you will most likely want to use a waterproof case with your AirTag.
What happens if an AirTag gets wet?
If you expose an AirTag to water outside the recommended ingress rating, you run the risk of water penetration resulting in permanent damage to the AirTag.
Final Thoughts On Can AirTags Get Wet
So, in conclusion, can AirTags get wet? Yes. AirTags can get wet, however, they are only water-resistant and not waterproof. If you want full IPX8 waterproof protection for an AirTag, consider purchasing a waterproof AirTag case or keychain.
Looking for additional reading, check out my other article where I explore useful AirTag ideas.
---
Affiliate disclaimer. We may receive an affiliate commission at no extra cost to you if you purchase a product after clicking on one of our links. This doesn't affect our editorial independence.