Everyone should have access to a private and safe internet connection.
I've personally been using Witopia PersonalVPN for over 5 years to keep my family safe while surfing the internet.
Witopia PersonalVPN will keep you and your family safe while using the internet. It's quick and easy to use, is backed by a company with a long security history, and has top-notch customer care making it the best trustworthy VPN available today.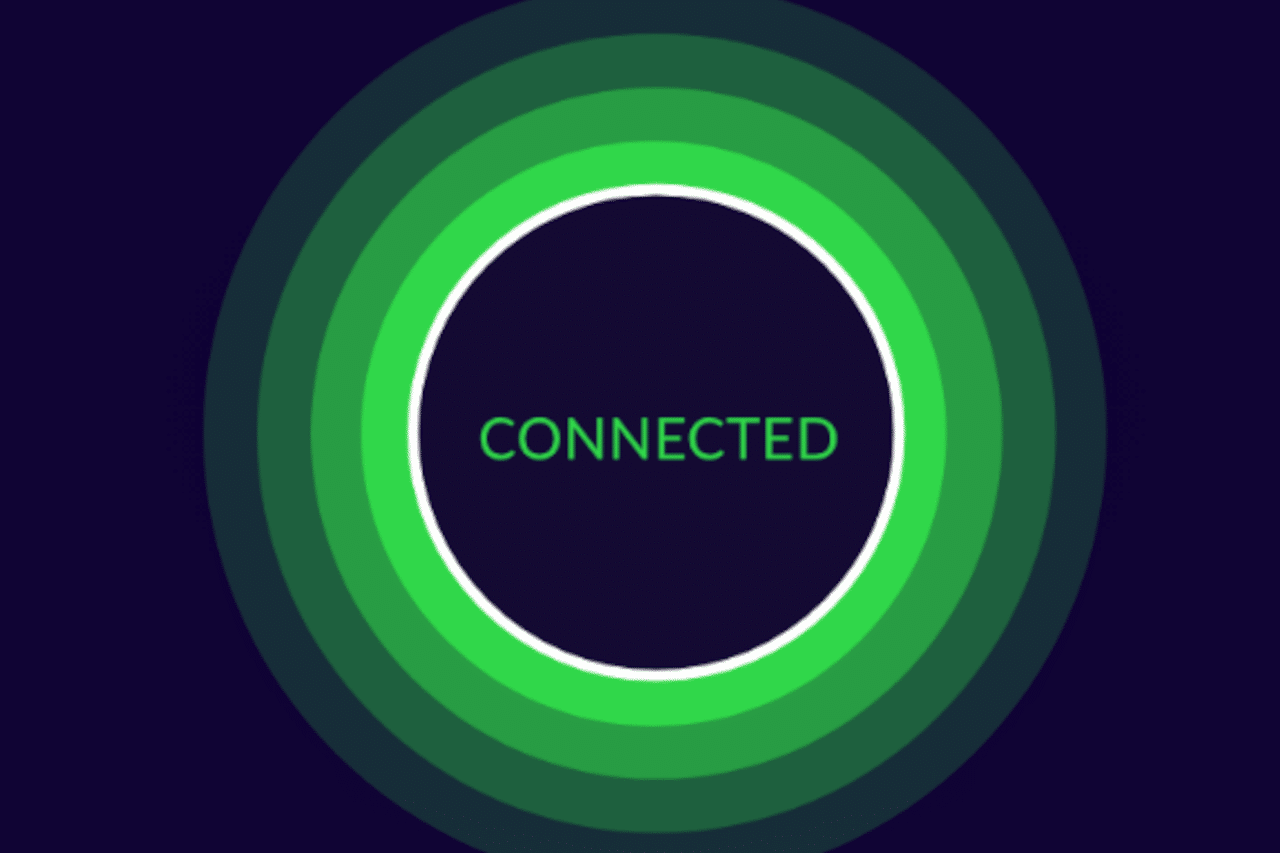 Witopia PersonalVPN Review
In this article we outline Witopia's PersonalVPN pros and cons, features, pricing model, and wrap up with our final thoughts on why we believe this is the best trustworthy VPN available today.
What Is A VPN And Why Do I Need It?​
The turn of phrase VPN stands for Virtual Private Network . It is a software service that secures your internet connection and ensures your privacy online. 

It encrypts all your data in transit and protects your online identity by hiding your IP address from those looking for it.

Additionally, it also does a pretty darn good job at ensuring you can access any public WiFi network without any concern.
What Cool Things Can You Do With A VPN? (3 Ideas Explained)​
As mentioned above, with a trustworthy and reliable VPN service you can browse the internet safely and anonymously, but that's not all. Below we round up three cool things you can do with a personal VPN.
1. With A VPN You Can Use Guest WiFi At Coffee Shops, Hotels, And Airports Without Worry
You are susceptible when using a WiFi connection, but not if you're using a VPN. You're essentially broadcasting your data over the airways with little to no protection.

Anyone on the network can view and obtain information about you, even if you used a strong password to access the connection.

Due to the risks, public and guest WiFi, such as those found in hotels, airports, and coffee shops, are particularly dangerous to use without a VPN service.
2. With A VPN You Can Surf The Internet Anonymously In Stealth Mode
An IP address is a unique string of numbers for your internet connection that's assigned to you by your internet provider, for example 192.168.xxx.xxx. Every website you visit can see it. Therefore all of your internet activities and location are cataloged using this IP address.

A VPN service will protect you from this by providing you with an anonymous IP address that will make it impossible for your actual IP address to be seen, allowing you to surf in stealth mode! How cool is that?
3. With A VPN You Can Watch TV And Geo-restricted Content From Other Countries
There are times when you cant access media or content from the country you are in. That experience differs depending on where you are at the time.

One smart trick is to use a VPN to change your location to the country where the media you want to access is located. When spoofing your geographic whereabouts you now have the upper hand. This makes media access not about your physical geographic location anymore.

For example, If you are a British expatriate and wanted to unlock geo-restricted content on BBC iPlayer or ITV Hub then a VPN service has you covered. Isn't that a sweet little trick!
Yes, I believe it is, which is why I continue to use it every day to protect myself and my family.

One of Witopia's most attractive features is just how simple it is to use. Below we take a look at what I believe are its top qualities making it a good VPN.

The qualities outlined below are things you should consider when choosing any family VPN service, whether it's Witopia PersonalVPN or not.
Simple VPN Installation Steps To Get You Up And Running Quickly
The installation procedure is easy and takes only a few minutes regardless of your operating system. Since I'm using macOS I've documented the steps below as an example.
Log into your Witopia dashboard and ensure you have activated the service.
Click on the purple downloads/setup button and click the macOS icon to initiate the download process.
Save the downloaded install package on your computer.
Double click to open the PersonalVPN install package.
Confirm you want to install the PersonalVPN package. When complete confirm you want to close the installation screen. Now you're all set to start using the service.
Good Country VPN Server List To Choose From
Witopia boasts around 65 servers spread over many countries. As a result, they are able to maintain a large number of servers and IP addresses for you to use.

As well as having a good spread their server uptime and availability is top-notch with very little in the way of servers being down noted.

However, one thing to note, while Europe and North America are well serviced by Witopia's network, South America, Africa and even parts of Asia are a bit on the light side.

Ability To Connect Multiple Devices At The Same Time To The Same VPN Service
The good news is that regardless of the service plan you select, you can set up your VPN service on any device and have up to 5 multiple connections for each active account.

If you have a large family who tend to access the internet at the same time, you may want to consider Witopia's top-tier service which allows for up to 8 connections at the same time.
A Pricing Option That Suits All VPN User Budgets
When it comes to pricing Witopia PersonalVPN has three versions available, Basic, Pro, and Premier. The Basic option does not enable users to take advantage of all of the VPN services features whereas the Premium option does.
Try it now risk-free for 30 days
Basic
per month
Includes all standard features listed below
Pro
per month
Same features as Basic, plus additional Pro features
Premier
per month
Same features as Pro, plus additional Premier features
All VPN Pricing Options From Witopia Include The Following Standard Features
Witopia VPN Pro Option Also Includes The Following Features
Witopia VPN Premier Option Also Includes The Following Features
Witopia's payment methods include credit cards and PayPal. Credit cards are processed through Authorize.Net or PayPal.
The new slick design has a large connect button in the center that you can't miss along with a button to select your connection location underneath. Make the selection, hit connect and you're done.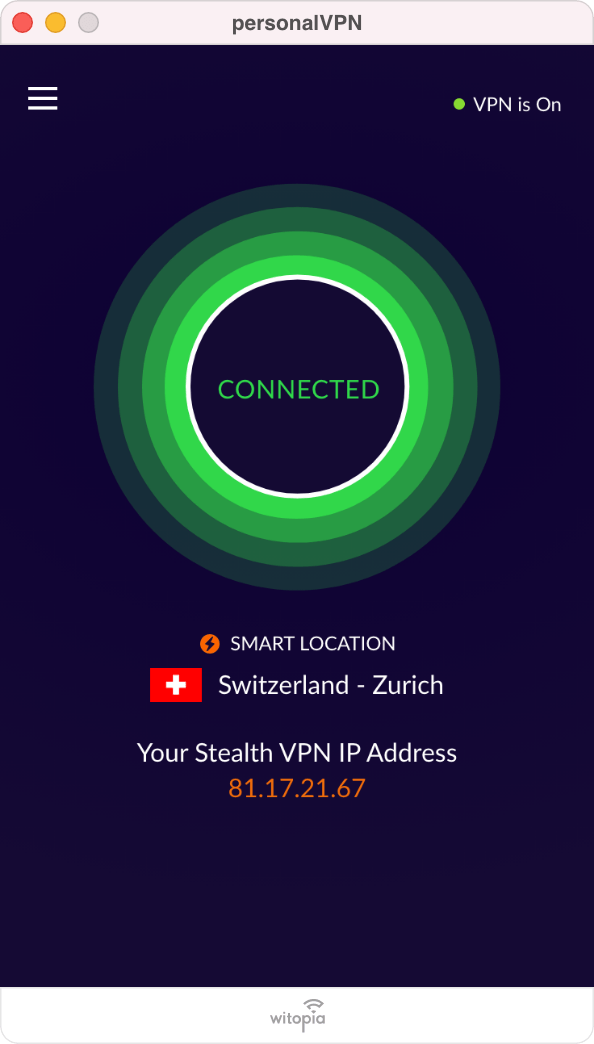 The server locations are arranged alphabetically, with each server location displaying a flag of the country next to it, overall making it simple and intuitive to u
Clicking the three-line hamburger icon in the top left of the user interface opens a menu of options that includes VPN locations, preferences, diagnostics and gives the user direct access to their 24 x 7 x 365 online chat support.

Exploring the VPN server locations a little more lets us see they are sortable by region.

A fast search tool is available at the top right of the user interface, making it an easy-to-use feature.

Next, we take a look at the preferences menu option.

The settings cover options for the connection, protocol, DNS, general, and for the more knowledgable user, there are advanced options to play with.

The settings available are self-explanatory, and for those that are not there is a brief description of what they're for, which for the not-so-tech-savvy user is a huge plus!
Industry Standard VPN Security Features
The protocols and encryption methods used by a VPN service are the foundations of its security.

Witopia's encryption is AES-256-bit which is to military-grade standard!

One thing to note, however, when it comes to protocol options is that they differ depending on which plan you purchase. OpenVPN and various obfuscated stealth protocol options are only available to users of the top-tier plans.
Top-notch VPN Customer Support
Support is something that Witopia excels in. Offering 24 x 7 x 365 unlimited online chat support there is always someone available to help you out! Fast, knowledgeable, and friendly support. We wish all products in the tech world offered this level of aftercare.
Frequently Asked Personal VPN Questions
Is using a Personal VPN legal?
Yes, you are legally allowed to use a VPN.
Which VPN works with BBC iPlayer and Netflix?
Witopia PersonalVPN can unlock geo-restricted content from both BBC iPlayer and Netflix.
Is Witopia PersonalVPN free?
No its not free, however they do offer a 30 day risk-free guarantee option.
Is a VPN service worth it?
Yes, absolutely. If you want to enjoy worry-free internet browsing then you need to use a VPN service like Witopia PersonalVPN.
Is there a trusted VPN?
Yes, Witopia PersonalVPN hits the mark as a trusted VPN. Witopia has a long track record within the security industry dating back as far as 2005.
Final Thoughts​ On The Best Trustworthy VPN (Honest Witopia PersonalVPN Review)
So in conclusion, Witopia PersonalVPN isn't the cheapest service on the market and perhaps not the most feature-rich either. However, Witopia has a dependable track record when it comes to security, the VPN speeds are excellent, and the customer care is fantastic.

The service can unblock geographically restricted streaming services like BBC iPlayer, ITV Hub, and Netflix US, so you may want to consider it for that reason alone.

Over the many years, this service has never let me down. So for this reason, I consider it to be the best trustworthy VPN to protect your family online.
Try it now risk-free for 30 days
---
Affiliate disclaimer. We may receive an affiliate commission at no extra cost to you if you purchase a product after clicking on one of our links. This doesn't affect our editorial independence.